​Antigoni Gaitana

Adventures on and off stage
​My parents named me Antigoni after my grandmother, but I have always felt that my name carried the weight of the Ancient Greek Drama. Theater and singing were the two forms of art that excited me the most from a very young age. The musicality of the recited text, and the dramatic aspect of music were identical concepts to me. I loved playing with words and sounds, and my favorite activities included writing short stories, directing "performances" with friends, and singing. Storytelling and interacting with people has always been fascinating to me. I have studied theater, classical singing, and never ceased writing. After moving to New York I came to realize that all my interests are met in the vocation of the dramaturg.

Welcome to my world, a world of everlasting search for sincere communication on and off stage.
Powered by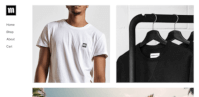 Create your own unique website with customizable templates.